2022 was the second year that CPATA administered the qualifying examinations for patent agents (PAQE) and for trademark agents (TMAQE).  Examinations are a primary way for the College to protect the public interest by ensuring that entry-level practitioners have the knowledge and skills necessary to competently serve their clients.  
CPATA is committed to making incremental improvements to the Qualifying Examinations with each administration, making the process fairer and more defensible, leading up to the redevelopment of the qualifying examinations in 2024 to align with the new technical competency profiles. In 2022, significant improvements were made to exam platform functionality, protocols for exam-related incidents while candidates were writing, and overall logistics. 
Two (2) significant improvements to content development were made:  
Increased Standardization of Test Content: Based on the results of a legacy mapping project (which analyzed content and cognitive levels across multiple years), exam developers were instructed to follow guidance on specific content and cognitive level allocations. This was intended to improve content and cognitive level consistency across forms. The exam developers generally followed the guidance on content allocations or provided a rationale for not following this guidance. Overall, this exercise helped to reduce some variability and to uncover some of the key challenges to address in future examinations. 
Marking guides adjustments: A psychometric consultant provided recommendations for the development of marking guides, including providing a model answer, breaking down marks (where feasible), mapping questions (or mark sets) to a performance criterion and cognitive level, and avoiding mark deductions1 (where feasible). We identified some development opportunities (primarily related to mark clarity) to be addressed in the redesigned examinations, which will start in 2024.  
25 candidates were successful in the TMAQE, including the re-correction process. 28 candidates were successful in the PAQE after the initial marking, and 1 additional candidate was successful after the re-correction. 
Pass Rates by Year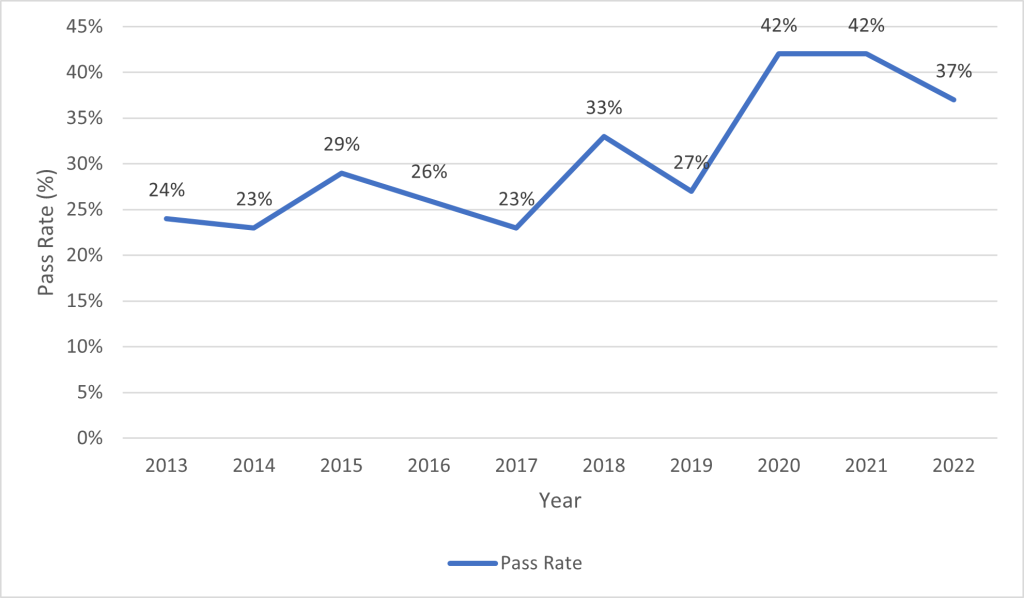 Average Marks (%) by Year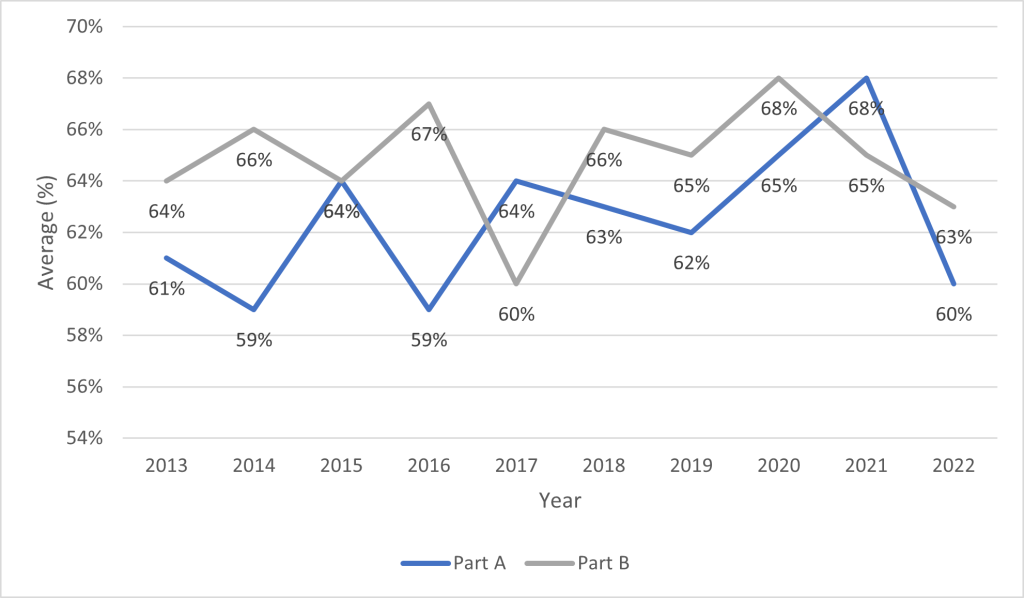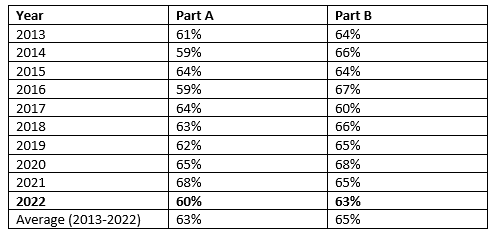 Pass Rates by Exam Paper:

Overall and First Try Pass Rate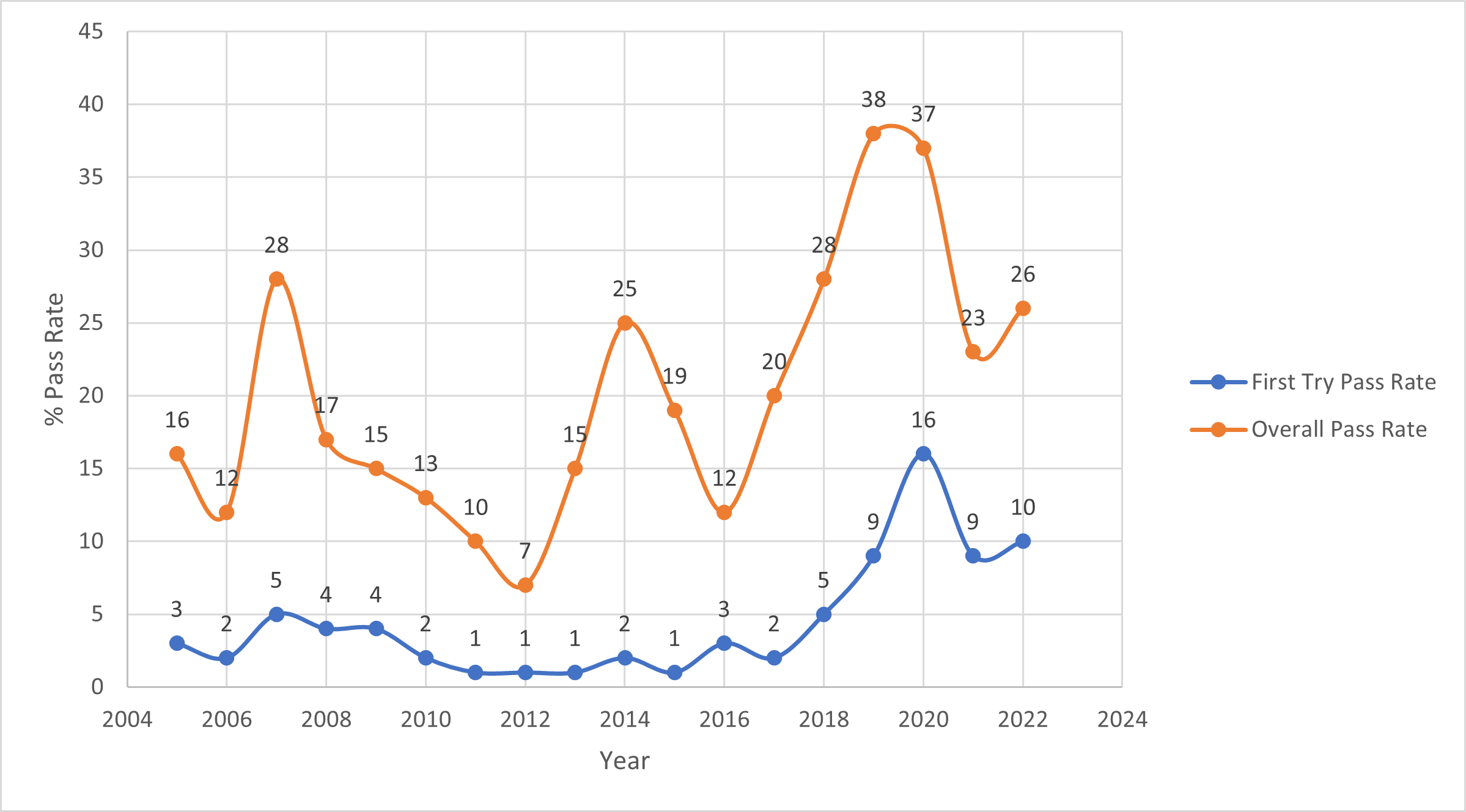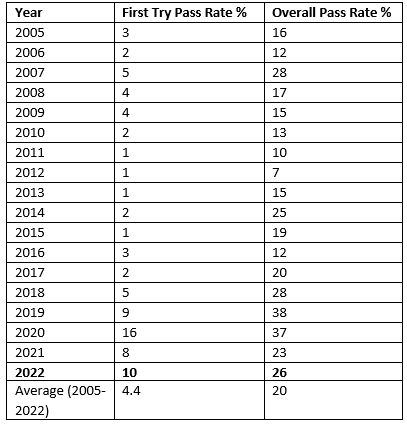 1 For example in Paper A, unconventional ordering of the elements of the description may cause a lack of clarity and may result in mark reductions. Similarly, deductions are taken for faults in the claims, or faults in the rest of the specification,. Details regarding these deductions are provided to candidates with the instructions for the examination.