Ensure that your contact information, mailing address and public address are up to date and click "Save and Continue."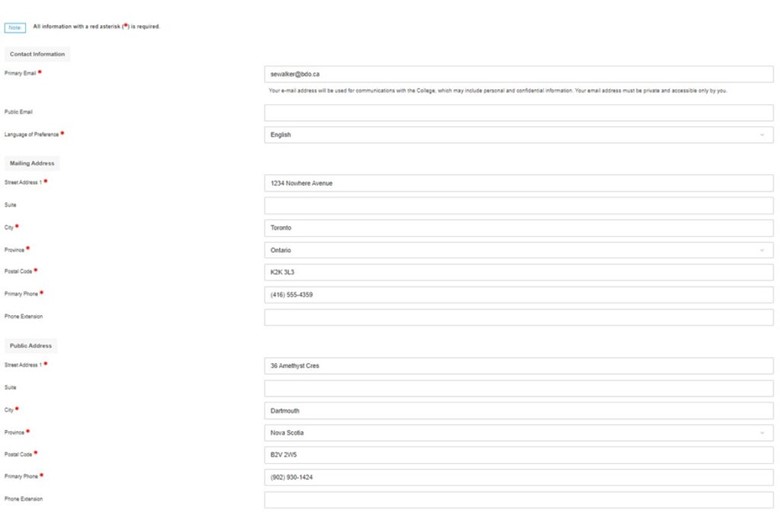 Ensure that your Place of Work Information is up-to-date. You can add a new place of work by clicking "Add New" and following the instructions. If you are renewing a Class 2 licence and do not have a current place of work, please add your home address information.
Please confirm which record is your primary employment, if applicable.
If your firm is not listed, please fill out a Firm Affiliation Form. Continue the renewal by clicking Previous.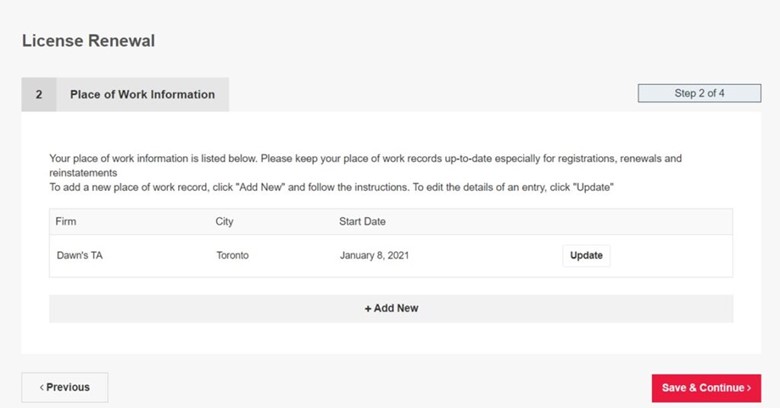 Select the languages in which you practice.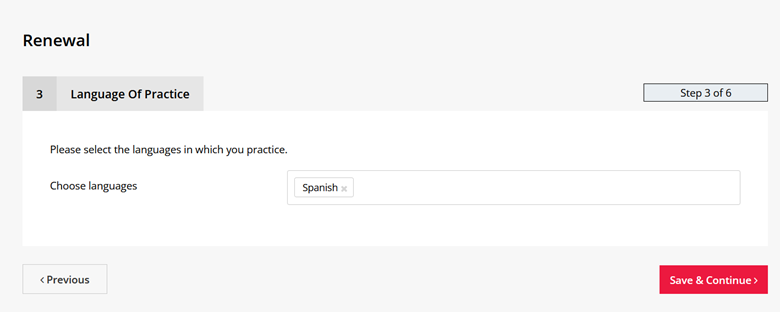 Select Active in the Requested Status field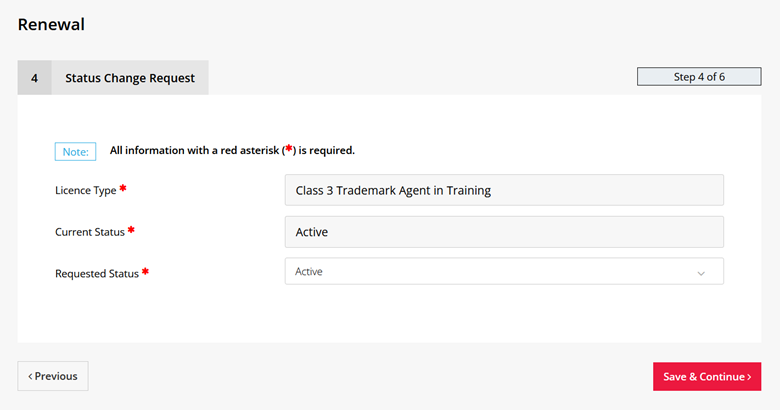 Complete the declaration questions regarding Canadian residency and insurance in the Annual Licensee Report.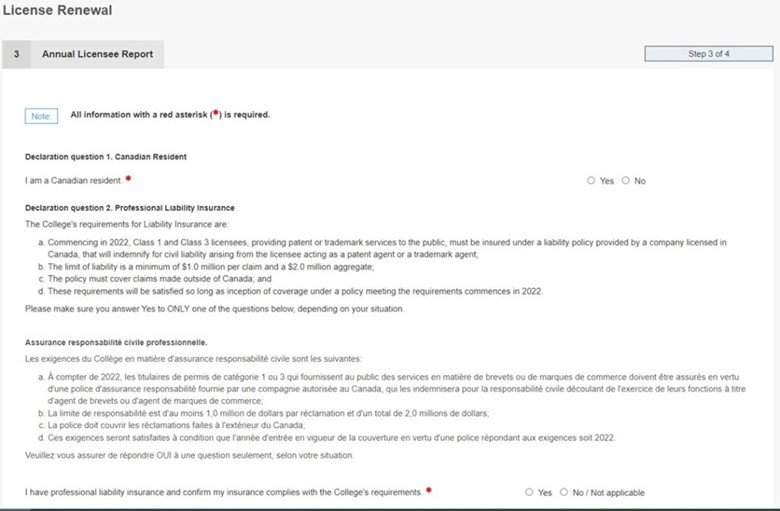 If you are a Class 3 agent, provide confirmation of continued supervision. This section does not apply to Class 1 and 2 licence renewals.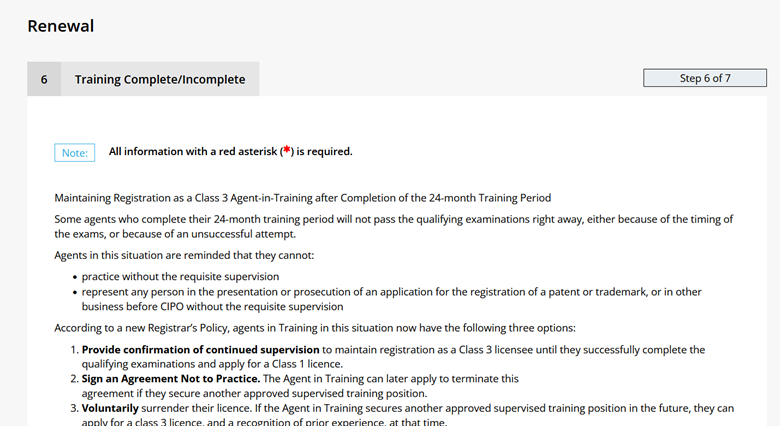 Proceed to pay your licence renewal fees by choosing "Credit Card" under "Methods of Payment" and clicking "Process Payment." If your firm is paying for your renewal fees, select the option "Third-Party/Bulk Payment" under "Methods of Payment" and click "Submit." Please note that this method of payment is available only for Class 1 and 2 agents and if your firm is paying for 5 or more agents.
If you are a Class 3 agent and select the option "Third-Party/Bulk Payment", your licence renewal will be denied and you will have to start a new renewal process.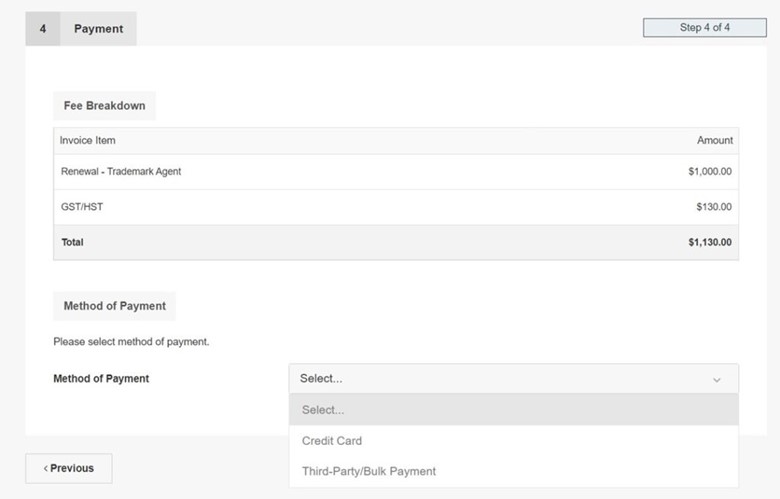 If you have paid your fees, you may download your invoice. Please note that CPATA does not issue invoices in advance but does provide them after payment.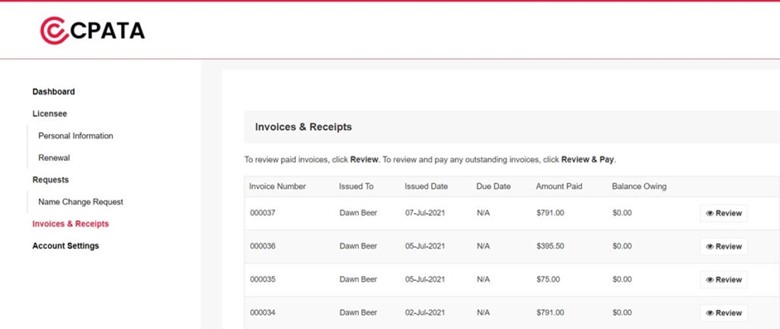 Multiple Licence Discount for Class 1 and 2 Agents
CPATA will be offering a 'multiple license discount' to individual licensees looking to renew two annual licences: one as a Patent Agent and the other as a Trademark Agent.
This discount applies only to Class 1 individual licensees looking to renew two licences and should not be interpreted to apply to any other scenario.
To guarantee that the discount is automatically applied:
Ensure that you pay for the two licence renewals separately.
Pay for the first renewal at full cost ($1000 + taxes).
After the first renewal has been initiated, our system should automatically recognize that this first renewal payment has been made.
When the system recognizes this initial payment, it will automatically apply a discount of 50% on the second licence.
For the 50% discount to be accurately applied, licensees must:
not open the second renewal in another browser or as a separate browser tab
pay for their licence renewals in separate transactions.